THE BEGINNING
Nov. 3rd, 1971 
Medical Conference of the Commonwealth countries in Mauritius recommended: West African English-speaking countries should consider the formation of one Postgraduate Training College as an inter-regional institution.
Dec. 1972
Ministers of Health of English speaking countries agreed to set-up the West African Postgraduate Medical College (WAPMC).
1973          
Ministers of Health of Anglophone WA countries invited the following to form the Constituent Colleges of WAPMC: 

Association of Physicians of West Africa as the West African College of Physicians (WACP).

Association of Surgeons of West Africa as the West African College of Surgeons (by that time the Surgeons had established                WACS and absorbed the Association into it).
May 1975 
Constitution of WAPMC signed by Health Ministers of five Anglophone Countries with WACP and WACS as Constituent Colleges.
Oct. 1976 
Business of College commenced:
Election of Officers

Meeting of Fellows

Adoption of Provisional Constitution by acclamation.

Foundation Fellows –

All Anglophone from The Gambia, Ghana, Liberia, Nigeria and Seirra Leone.

No Francophone Foundation Fellow because Association of Physicians of West Africa remained a separate entity.
Distribution of Foundation Fellows of The College by Faculty and Country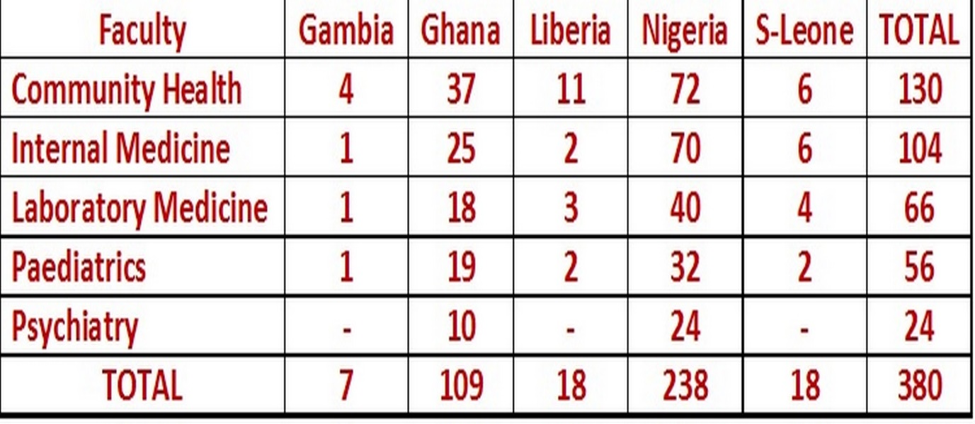 Some Foundation Fellows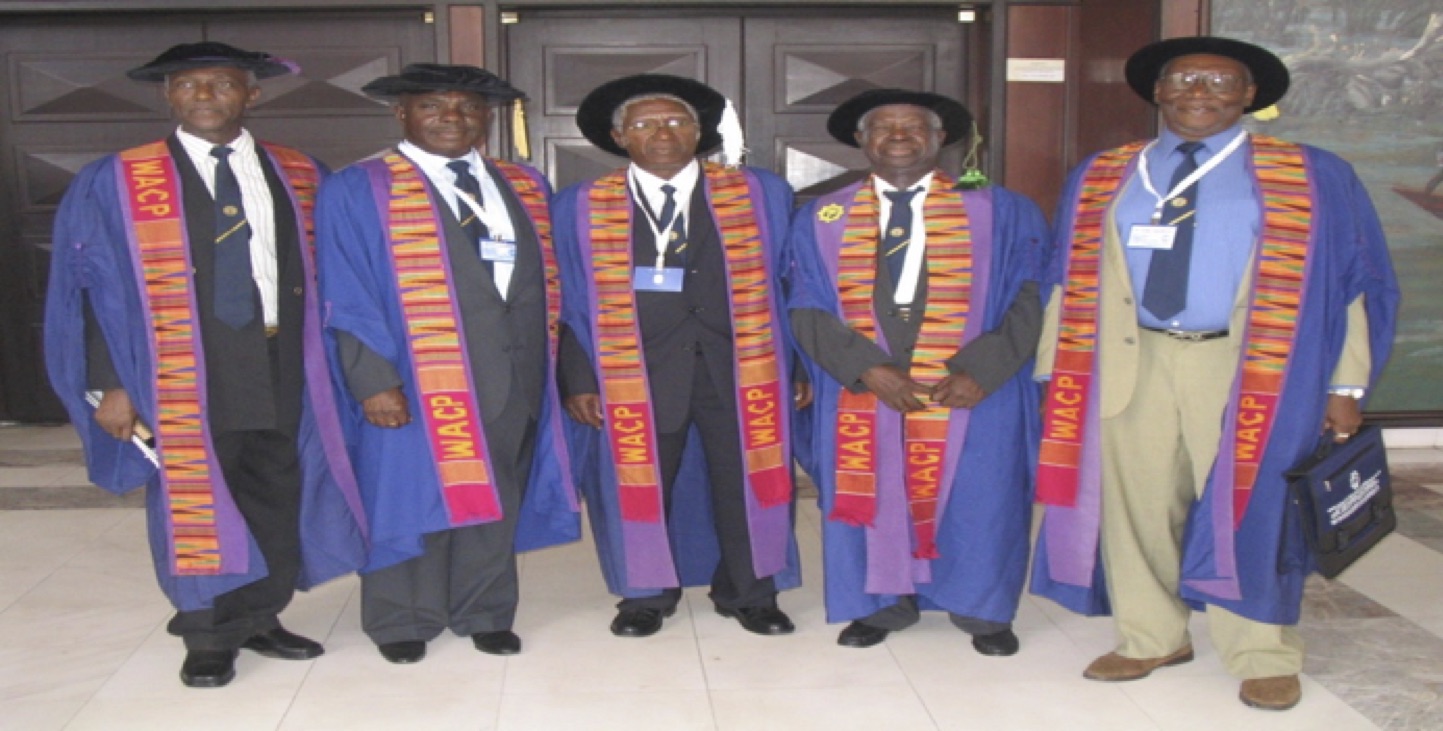 Aims and Objectives of the College
To promote excellence of professional training and standards of practice of physicians in West Africa.

To contribute to the improvement of health care in West Africa by providing a designation for specially trained physicians thereby indicating that they are properly qualified.

To encourage and assist and have continuing concern in health matters.

To assist and advise the West African Postgraduate Medical College in the formulation of policies on postgraduate medical education in West Africa.
Activities at the beginning
Feb 1977 – First Set of Curricula developed.  The training programme was fashioned along the lines of the National Postgraduate Medical College of Nigeria – Residency with three Parts of Examination: Primary, Part I and Part II.

Accreditation of training Institutions followed and 22 training institutions were accredited and these were distribute as follows;

The Gambia  -  2

Ghana  -  2

Nigeria  -  16

Sierra Leone  -  2
1979 – First Primary Examinations were held at Ibadan.
Examinations administered by the College Secretary but coordinated and supervised by Secretary, WAPMC.
1980 – College started Annual Lectures and 3-day mid-year workshops.
1983 – Annual Lectures merged with Annual General Meeting with free communications to become Annual General and Scientific Meeting.
1984 – First Fellow by examination admitted to College.
1985 – Faculty of General Medical Practice added.
1987 – Extension of membership to Francophone countries began with visits to Senegal, Cote d'Ivoire and Togo.  Eight Francophone Fellows were admitted to the College as follows:

Senegal  -  3

Cote d'Ivoire  -  5

1988 – Modified Part II examination introduced to control election of Fellows from countries with large membership.  This was changed to "grand-father clause" in 1995.
1994 – Diploma in Psychiatry introduced.
1997 – Part I examinations became an exit examination with the award of the Membership Certificate.
                                                                                           WAHC/WAHO and the College
1977 – West African Health Community (WAHC) was created by the Ministers of Health of five Anglophone countries.  WAPMC was annexed as an Agency of the Community.

The Colleges being constituent Colleges of WAPMC came under administrative control of WAHC.  Programmes and academic activities of the Colleges and budgets for these were submitted through WAPMC and approved for funding by WAHC.

1987 – ECOWAS signed treaty to form West African Health Organization (WAHO) by merging Anglophone WAHC and Francophone OCCGE (Organisation pour le Controle et la lutte Contre les Grandes Endemies).
WAHO: Merger of WAHC and OCCGE
April 2000 – WAHO commenced operations in Bobo Dioulasso.  DG WAHO announced a paradigm shift – "enabler NOT provider".
Jan – July 2001 – WAPMC wound down activities as a College and devolved supervision and coordination of the College examinations to the Constituent Colleges.
April 2001 – WAPMC organized a training workshop for the Colleges on writing Strategic Plan as WAHO hoped to continue to support Colleges based on their Strategic Plans.
2001 – WACP produced its first Strategic Plan 2002 - 2006
Post WAPMC/WAHC/WAHO
2001 -- WAHC merged with their francophone counterparts, the OOCCEGS to form the West African Health Organization (WAHO) under the auspices of ECOWAS
2001 – Funding of the Colleges through WAHC/WAHO  diminished significantly and Colleges became more dependent on their own resources – examination fees, membership fees, fees for workshops, etc.
April 2001 – Meeting of Health Administrators of the five Anglophone countries established to provide continued government support for the Colleges.  The Ministries of Health committed to political and financial support for the Colleges (WACP,  WACS, WAPCP and WACN).

Approved that the Colleges should remain in WAHC building in Yaba.

WAPMC Secretariat transformed into Administrative Unit for Common Services of the Colleges.

April 2001 – Colleges took over the running of Fellowship examinations from WAPMC and jointly managed the Examinations staff and facilities.  Later, Examination office was divided and each College runs its own.
 2002 – College began building a functional Secretariat of its own staff  with some challenges in the early years. Unable to retain permanent staff till 2005.
2004 – College Registrar was appointed to provide day-to-day supervision of the College Administration.   This lasted for 4 years only.
2003 – College began efforts to be more of a training College than an Examination body and introduced mandatory registration of physicians-in-training.  Training Coordinators appointed in Faculties and Chapters.
2003 – Major revision of the Constitution of the College.
2004 – Gown and Cap for College President and stoles for Chapter Chairmen/Vice- Presidents and Past Presidents.
2008 – Cote d'Ivoire Chapter was chartered.
2010 – Senegal Chapter was chartered.
2011 – Benin Chapter was chartered.
2018 -- Mali Chapter was chartered
2018 -- Niger Chapter was chartered
Symbols of the College
The crest is a shield (signifying protection) that bears a royal palm tree round which is coiled a serpent, the traditional symbol of the healing art which reminds one of the links in heritage and fellowship between all Medical disciplines. This is set on a "green pasture signifying the importance of local herbs in the cure of diseases. The birds flying off the branches represent the West African College of Physicians, messaging health to far away.
The inscription "West African College of Physicians' and "College Quest Africain des Medecins" in English and French respectively indicates that the College is truly West African
The mace of the College is cast in bronze and depicts a handle shaped like the base of an African State Sword, while the cylindrical body has at the top the traditional "Serpent coiled around the staff
The College gown is Naval blue in color with a purple face. The cap is black and the tassel color differentiates the faculties as follows
Faculty of Community Health is Green colored, which represents the environment

Faculty of Family Medicine is Multi-colored, which represents the multidisciplinary

Faculty of Internal Medicine is Gold yellow-colored, which represents riches and diversity

Faculty of Laboratory Medicine is colored Red, which represents blood

 Faculty of Paediatrics is White-colored, which represents purity and innocence

Faculty of Psychiatry is contrasting Blue colored, which represents peace and tranquility
Some Traditions of the College
Annual General and Scientific Meetings (AGSM)– rotated among Anglophone Chapters however, since the establishment of Francophone Chapters, Francophone Charters wishing to host the AGSM applies to Council.  ?? Future arrangement.

Election of College President – Rotated among Anglophone Chapters and the incumbent Chapter Chairman was nominated by the country.  This has changed occasionally.  Establishment of Francophone Chapters would require a new formula or rule.

Election of Secretary General – The Assistant Secretary General is nominated and elected as Secretary General.  The post is rotated between Nigeria and Ghana for administrative convenience and inclusiveness.
Election of Assistant Secretary General – bearing in mind the rotation of the post of Secretary General, the Secretary General nominates a Fellow of his choice for election into the post.  This is to ensure harmony within the Secretariat. He or she may consult or be lobbied.  In recent times, Chapters propose consensus candidates to the Secretary-General
Election of Honorary Treasurer – Same as for Secretary-General.

Election of Assistant Honorary Treasurer – same as for Assistant Secretary-General.

Criteria for Elected Officers of the College – apart from being a member or former member of Council for the post of President, there are no stated criteria.  The Fellow is expected to be in good financial standing but there is no limit of age, seniority or experience.